I continue to be amazed by the generosity of people everywhere during such a time of devastation and loss. It seems that the spirit of Noah's Ark continues as many hands are extended to help others.

Following my last post, I have been fortunate to have participated in many auctions, some as a donor, and some as a bidder. It is heartwarming to see the Facebook and blogging communities banding together to continue the fund raising to assist with the Premier's Disaster Relief Appeal for the Queensland floods. There are also charity auctions with funds going to the Salvation Army and the RSPCA Queensland.
I have found a wonderful auction site called Possum Pouches. This amazing website is run by Robyn who operates
regular charity auctions and her current charity of choice is Angel Flight - auctions are running concurrently with Flood Relief auctions for this month. Please take a look at the website and see how you can become involved in this fantastic community resource.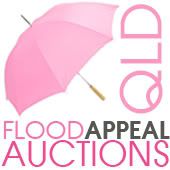 Please continue to share these links so that others can participate in the fund raising. You can also see many links to Facebook and blog auctions in my last blog post. If you would like to share a link to any other fund raising effort, please let me know by commenting below.

Noah's Ark
Deluxe Personalised Children's Book
$21.50 each with free shipping for delivery within Australia only.
Available now from Jelly Bean Books.